Photos of Teachers
I have been fortunate enough to play Principal Horn with the North Carolina Symphony for 15 years (1992-2007), teach horn at University of North Carolina at Chapel Hill and privately at my home.
In my early days I studied about 5 years with Roy Mattox and then later with his teacher, Dr. James H. Winter at California State University, Fresno.
Roy and Andrew in 2006
Dr. Winter came from the mid-west where he he studied with Max Pottag, the then second horn in the Chicago Symphony. Dr. Winter helped me further explore the brass playing concepts of the Chicago Symphony brass legends such as Phil Farkas, Bud Herseth and Arnold Jacobs. I owe my concept of tone/sound to Dr. Winter and also any patience and dignity that I have as a teacher. It was a great day in my life many years after I graduated when he asked me to call him James. I am proud to have his lineage live through me.
With Dr. Winter Backstage
While in Fresno, I also traveled to study with David Krehbiel, Principal Horn of the San Francisco Symphony (another former student of Dr. Winter and ex-Chicago Symphony member). I became intimately familiar with this school of brass playing while attending Northwestern University where I studied with Dale Clevenger,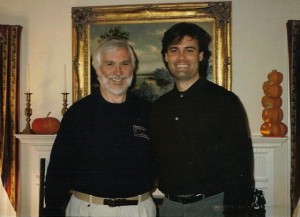 Dale and Andrew
Arnold Jacobs, Norman Schweikert and actually every member of the Chicago Symphony horn section (1987-89). And then playing on 5 different concert series with the CSO is where I experienced first hand how the Chicago brass playing technique was put to use. I owe my advance exploration of embouchure technique to Dale. He transformed my technique and started me on the path to understanding "thick air." From Dale, I learned breath starts and acquired his passion for smooth playing.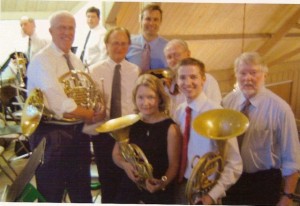 These are my early mentors. Roy, standing in front of me behind Michael, was my first teacher and a great, steady influence in my formative years. Rick Gratz, in front of me on my right, was principal horn of the Fresno Phil where I played Assistant. Thank you Rick for your calm presence and being so patient with my early mistakes. Chuck Schroeder is on the far left. In the far right of the picture is Dave Krehbiel, an early idol of mine. Thank you Dave for your model of spirituality blended with inspired musicianship. Michael Winter (now in the BSO) is in front with the red tie.