NOHAC
You are invited to the
National Orchestral Horn Audition Competition
April 11, 2015
Who?Anyone can attend and/or play rounds for $10. Competition categories are based on age. See individual pages for audition lists.
What? Orchestral excerpts; the same you have to play to win a job in a major symphony. Participants are encouraged to listen and adjudicate. The audience will have 1 vote (majority) and the judges will have 2 votes in who is advanced to the next round and who wins the overall prize.
Where? University of North Carolina at Chapel Hill (Chapel Hill, NC) in Hill Hall Music Building, room 107.
Map: http://music.unc.edu/about/direction
When? April 11, 2015 beginning at 10am. See the detailed schedule below.
Why? Have a positive and strong motivation to learn the excerpts that can win you a job. Need more?
Get to know what is expected in the excerpts from the Saturday masterclass.

Practice taking a national style audition.

Learn from hearing others while they take an audition (committee perspective).

Receive feedback after you audition (a very rare benefit after national auditions).

Winners (and there will be one from every category regardless of attendance) get their name announced in horn publications like the International Horn Society.

Win money.
How? Register by emailing andrew@hornlessons.org and mailing in your participation fee to Andrew McAfee. See the individual pages below this tab on the website for each age/level category for more detailed information.
Schedule:
Saturday, April 11:
10am Masterclass led by Andrew McAfee. Participants will be invited to perform and be coached from the list of excerpts. Recording the masterclass is not allowed.
12pm Lunch
12:30pm High School rounds begin then University Level Rounds follow. Participants are encouraged to listen and adjudicate. The audience will have 1 vote (majority) and the judges will have 2 votes in who is advanced to the next round and who wins the overall prize. Recording the auditions are allowed and encouraged.
4pm (or earlier) Award ceremony and feedback for participants.
Participation fee:
Auditors $10 (any one attending the masterclass and/or playing audition rounds but not competing for any cash prize).

High School Level: $25 to compete for the pot of cash.

University Level

:

$50 to compete for the pot of cash.
Participation fee covering attendance to masterclass and audition rounds may either be paid by purchasing videos from the Order page or by sending cash or a check made out to:
Andrew McAfee
6135 Westglen Drive
Raleigh NC 27612
Accommodations:http://www.visitchapelhill.org/lodging
*Special Single/Double Rates and Meal Plan at the Granville Towers (student housing)
You can download PDF info on how to register at Granville Towers here: confirming-details-at-granville-towers
2100 Granville Towers South
Chapel Hill, NC 27514
Office Phone: (919) 370-4500
Airport:http://www.rdu.com/
What to bring: Your copy of the excerpts, note pad, pen/pencils, your horn and accessories, snacks (fruit, nuts, energy bars, bananas, etc. recommended), water and a positive attitude. Recording the masterclass is not allowed, however,recording your audition round is allowed and encouraged.
In summary, the 3 things needed to participate:
Email andrew@hornlessons.org to register.

Send participation fee.

Practice!
I am happy to announce that I now have all the NOHAC excerpts in PDF form available for a nominal charge of $5 for each bundle (High School, University lists).
If you haven't compiled your NOHAC book of excerpts yet or would like to confirm the ones you have are correct, this is a great way to possess exactly what you need for the audition (and in the editions major orchestras use).  Not all of the NOHAC excerpts are on www.hornexcerpts.org but are available here.
The quickest and easiest way to receive them is to purchase any $5 video from my website (kind of a 2-for-1 deal).
http://www.hornlessons.org/order
Then send a message with the PayPal purchase saying which list you would like to receive (High School, University) and I'll email you the link so you can immediately download the PDF's.
If you are really busy and would like me to do all the work printing out and snail mailing the hardcopies to you, just purchase the "Online Videos 1-11" for $35
(3rd from bottom of page at http://www.hornlessons.org/order).
Include your address in the online order or email me your address and I'll snail mail them to you immediately.
If you don't want to do PayPal, just snail mail me the $ and info:
6135 Westglen Drive
Raleigh, NC 27612.

Thank you and hope to see you there!
Contact:Andrew McAfee
919.787.3022
Winners:
2015 NOHAC winner is Emily Farmer. Congratulations Emily! Judges Dave Babcock on left and Garth Molyneux on right.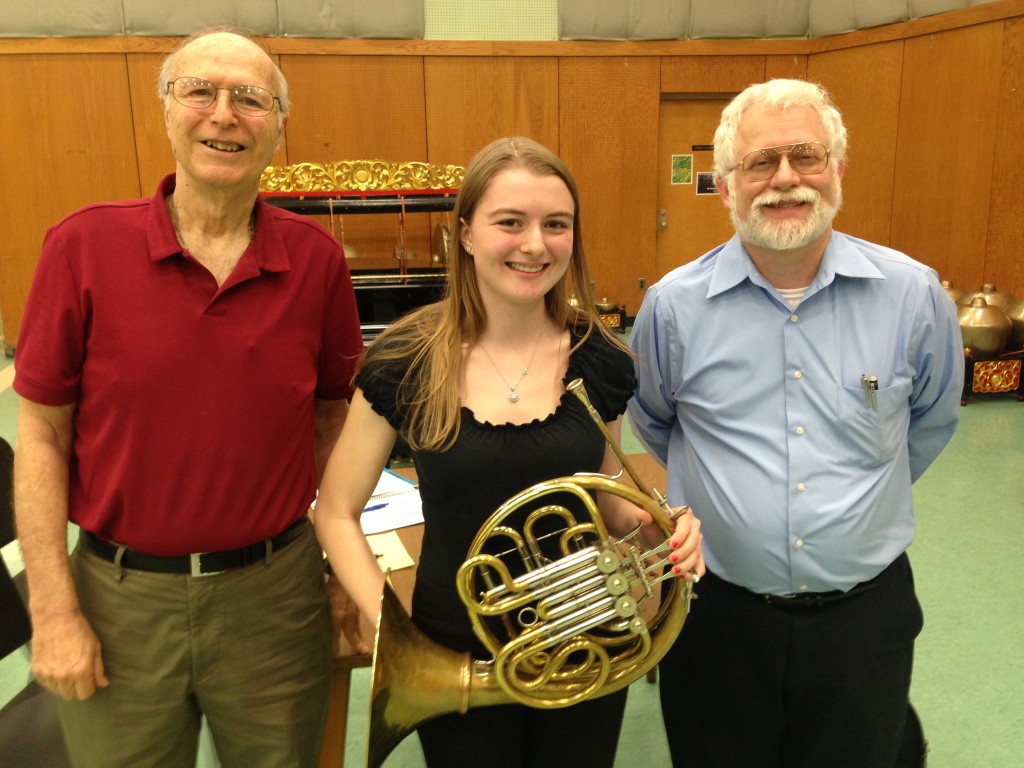 2013 NOHAC winners with judges from left to right: Jack Perisich (high school winner), Andrew McAfee, Dave Babcock (judge), Garth Molyneux (judge), Ian Mayton (University winner)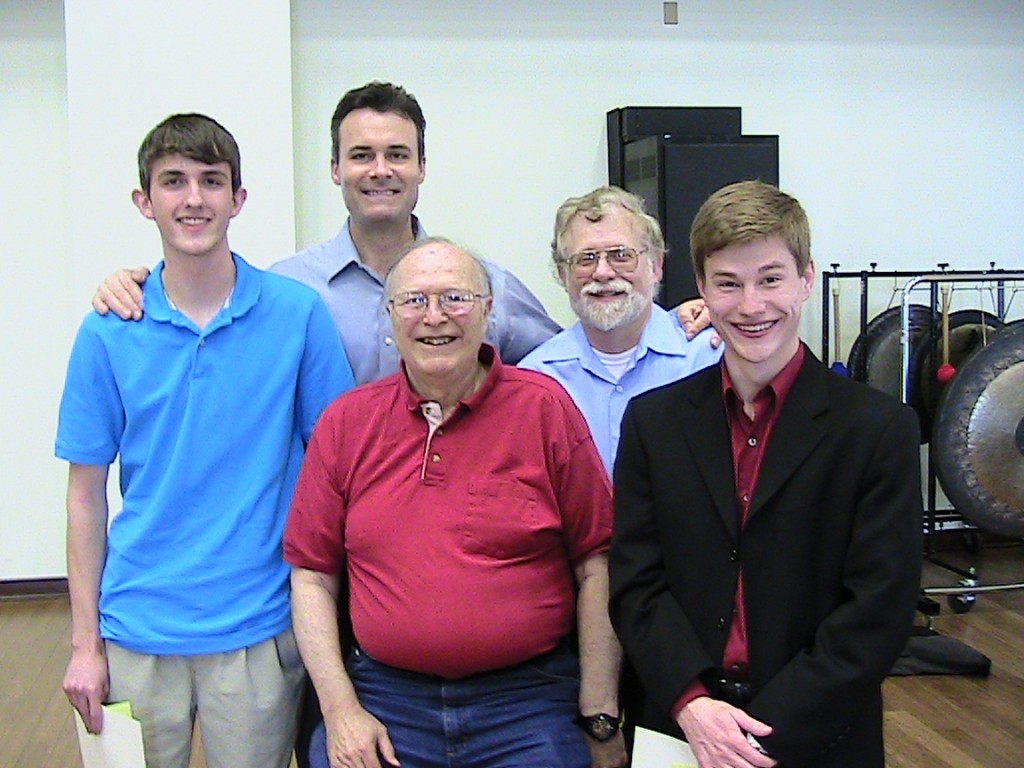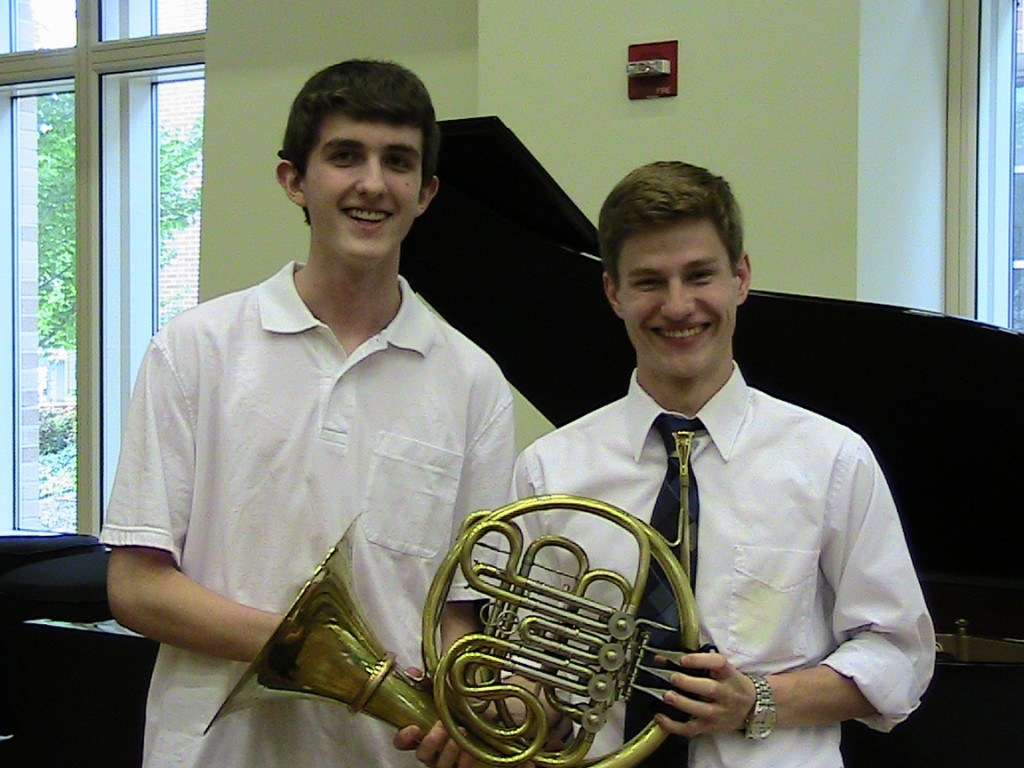 2012 NOHAC winners: (Left) Jack Perisich, sophomore at Wakefield HS wins high school division
(Right) Ian Mayton, sophomore at UNC Greensboro wins university division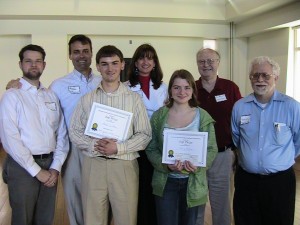 2011 – Paul Clifton (Western Michigan University)
Emily Farmer (Leesville Road High School)
(Judges from Left to Right: Ian Zook, Andrew McAfee, Dr. Jennifer Sholtis, Dave Babcock, Dr. Garth Molyneux)
2010 – Lauren Anderson (UNC Freshman)
Dominic Brancazio (Chapel Hill High School) was overall runner up (winner of high school division).
2009 – Daniel Hammond (UNC)
2008 – Keyondra Price (ECU)

2007 – David Lewis (ECU)
2006 – Laura Carter (ECU)